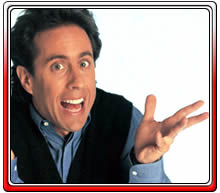 I notice there are times, I will have the very last comment left on someone's blog.
What's the deal with that?


Is it because my comment is so brilliant, no one can follow it up?

Have I stopped people dead in their tracks, because what I've said makes no sense?

Have I offended the sensibilities of the 25 other commentors?

No, really, I want to know. This is a bizarre phenomenon. And it's happened too many times to just be a coincidence.

Now, it's no secret that I think I'm hysterical. (Remember, if I'm going to spend time here inside my head, I may as well enjoy it). So, if the problem is that no one can keep up with my sense of humor, this I can understand.

But more brilliant than the other commentors? C'mon...even I know that's not true.

Making no sense to the other commentors? Well, yeah, that's a good possibility.

And what's the deal with commenting for the first time on someone's blog and getting no response? Not even a "hey", or "hi", or "welcome", or "my God, you're sick!"

NOTHING, NADA, BUPKIS. This has happened to me more times than I care to mention. Do I take it personally? Should I take it personally? What is the protocol for responding to new commentors?

Once in a while, a commentor comes along that is completely inappropriate, and then you have a whole other problem on your hands. Do you acknowledge that person? Do you encourage them? Do you delete them?

I think a blog is very personal; a part of you; an extension of you, if you will. It can be very violating when someone attacks you on your own blog.

I won't stand for it. I wouldn't stand for it in person, and won't stand for it on my blog.
Even though it's public, it is still MINE.

So, please, comment...say your peace, be funny, witty, intelligent, whatever. But if you can't be nice...then be prepared to be deleted.

And hey, if it makes you feel any better...If you're the last comment here, it probably means you were brilliant!